Window Cleaning & Exterior Glass Cleaning In Palatka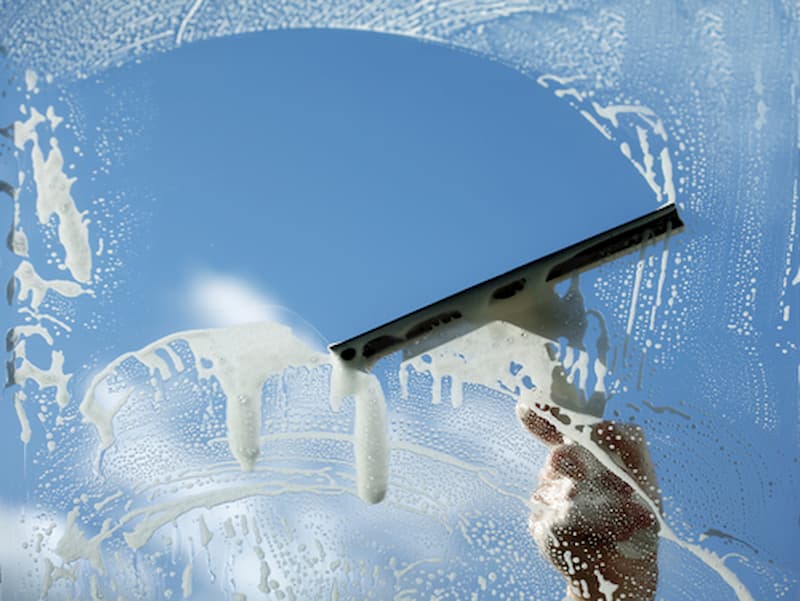 When you are in need of commercial or residential window cleaning services in Palatka, turn to the professionals at Sunshine Cleaning Service. From the basic bucket and squeegee, to pure water window cleaning that uses reverse osmosis and deionization filters, we can do it all.
You can always count on our expert cleaning technicians to provide the best in Palatka pressure washing, every time. Call us today to provide you with free window cleaning estimates based on your site location.
Window Washer
Whether it's a one-time cleaning or routine maintenance, discuss your needs with our professionals during your free estimate, and we'll find a window cleaning solution to fit your needs and your budget. Our window cleaning services include:
Window cleaning scheduling
Single window cleaning
Routine window cleaning
Weekly window cleaning
Monthly window cleaning
Emergency window cleaning
Bi-monthly window cleaning
Custom scheduling options
Property window cleaning
Bank windows
Office windows
Industrial windows
Storefront windows
Restaurant windows
Credit union windows
Business complex windows
Ensuring your home or business windows are clean and pristine has never been more reliable thanks to our almost 40 years of experience!
By boasting nearly half a century of large-scale window cleaning experience for commercial properties alongside our genuine desire to provide our fellow business & property owners here in Northeast, FL with a reliable source of reliable, consistent window cleaning services, we've all but guaranteed your commercial property is covered!
Get The Same Satisfaction Guarantee For All Your Cleaning
From your windows to your pool deck, our professional pressure washing service makes the perfect complement to every window cleaning visit, and both are backed by our 100% satisfaction guarantee.
Why Us?
Put over 34 years of dedication to work for your business today. Call to schedule your service or ask for a free estimate.
With the fickle and inclement weather we are constantly battling here in Northeast Florida, the dirt, debris, and general disarray that our home's experience is an almost daily source of frustration; as many local clients and homeowners alike will attest to! Having said that, our company, Sunshine Cleaning Service, has been a steadfast resource for reliable window cleaning and house washing services and upkeep for local residential properties for nearly 40 years!
Call us today to find out more about what we can do for you. We're excited to hear from you and to help you transform the look and feel of your residential or commercial property.
Latest Projects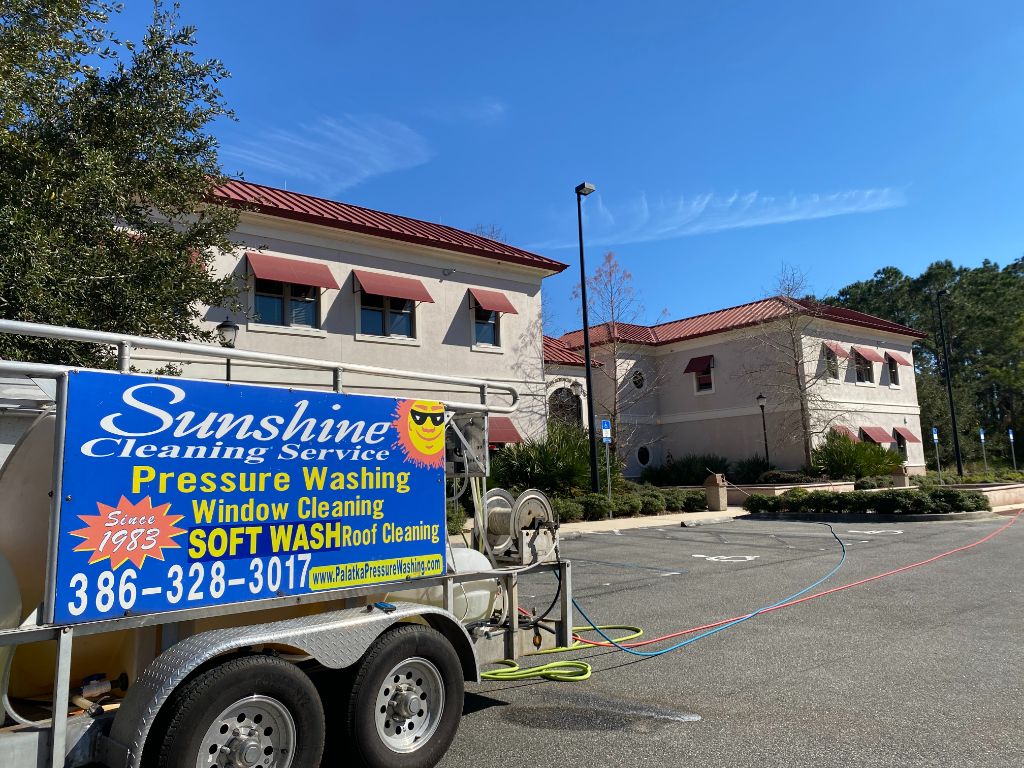 Pressure Washing SJRSC St. Augustine Campus
Pressure washing and window cleaning at the beautiful campus of St. Johns River State College in St. Augustine. Work included washing three buildings from top to bottom, removed years of mold, mildew, insects, spiders, and mud daubers. Followed up with window cleaning using our pure water […]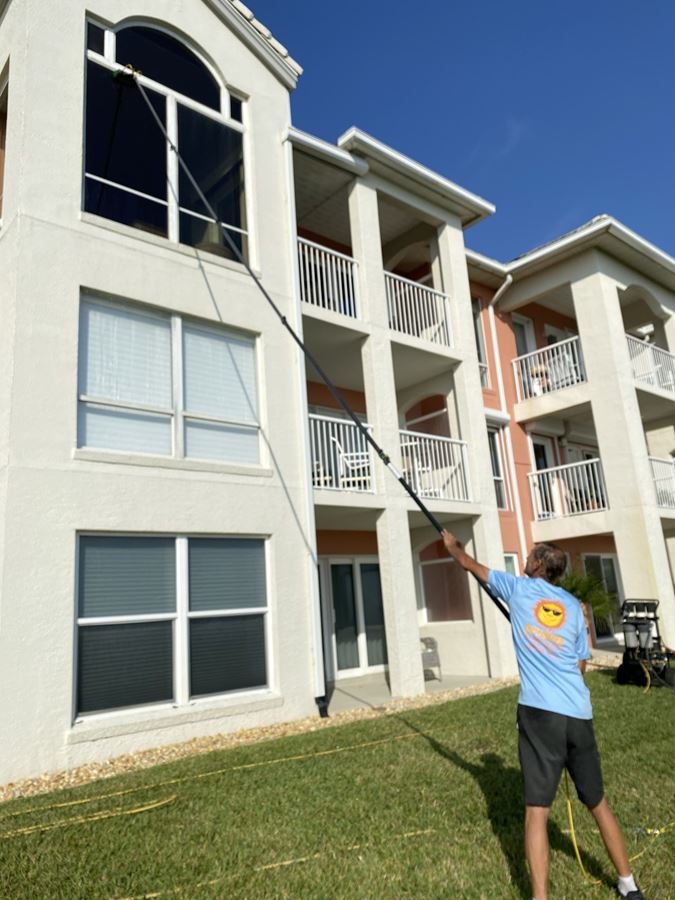 Oceanfront Window Cleaning in St. Augustine, FL
Oceanfront window cleaning in St. Augustine using pure spot free water with our RO/DI unit. This cleans the windows and frames, leaves the glass spot free! This particular customer has a problem with pelicans dropping dirty bombs that FOWL up the beautiful ocean view. Windows are […]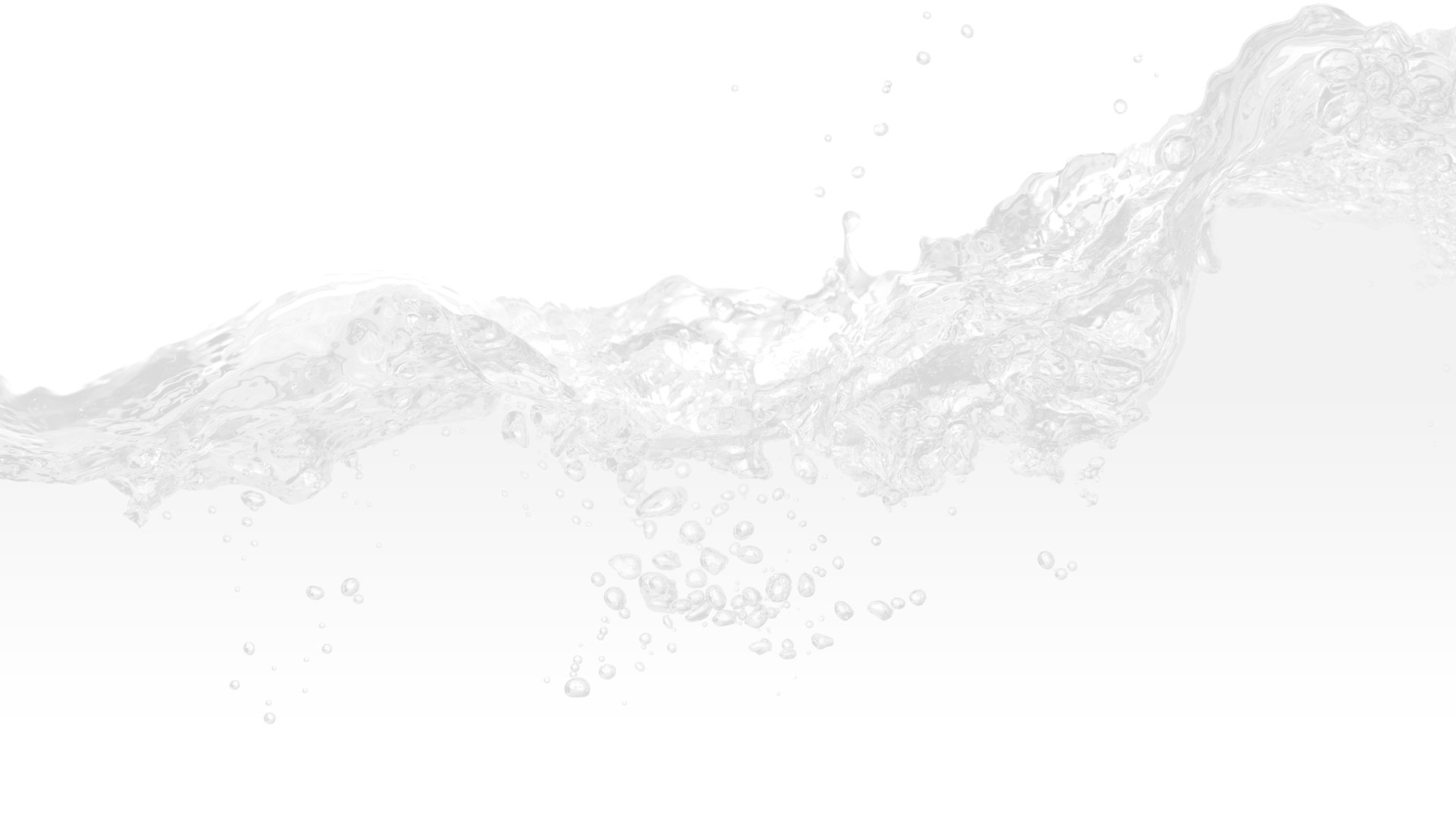 Contact Your Expert Palatka Pressure Washing Company Now!